03/13/11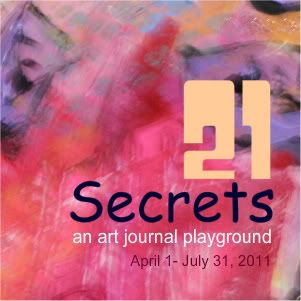 21 Secrets is coming April 1st and the excitement is building! Connie of Dirty Footprints Studios has brought together an amazing array of 21 artists into one awesome art journaling workshop. Each artist will share art journaling inspiration and technique for a multi-faceted learning adventure.
Last year I was new to art journaling. Now I have multiple art journals going and can't seem to get enough of this versatile medium. There are so many different things that you can do with this format and what you express is so uniquely you.
~~~ Comments are moderated ~~~
03/09/11
I have always wanted to make a string quilting spiderweb quilt. Recently I found a free pattern for this quilt design at Bonnie Hunter's Quiltville. Bonnie has almost 4 dozen free scrap quilt patterns at Quiltville with easy to understand instructions. Last weekend I went on a quilt retreat and came home with the beginning of my own spiderweb quilt. All you need to get started is the Quiltville spiderweb pattern, some 8.5″ by 11″ paper, and a bag of scraps.
~~~ Comments are moderated ~~~